I am a big fan of stuffed pastas, especially when there is more than cheese involved. This is a version of a recipe that I grew up with and really love. It involves spinach, so if that is not something you're worth trying, skip ahead to the desert part of the meal (poached pears!). These are delicious, and don't feel like your eating something particularly healthy, but they are still very light and refreshing. In my opinion, this is one of those super meals because it is really easy to make, fairly healthy, and delicious!
Ingredients
1 box of shell pasta
Cheese – a mix of Ricotta, Mozzarella, and Parmasean
Spinach – 1 package of frozen chopped spinach
1/2 onion diced*
2 tsp minced garlic (left overs from the Garlic Knots are perfect)
Salt and Pepper (to taste)
3 c tomato based sauce (Marinara or meat sauce works well)
*If you are not a fan of firm onions, you can sauté them lightly before adding them to the mixture.



Bring a pot of water to a boil, and add the shell pasta. Cook according to directions and drain. Set aside, but make sure that they do not stick together.
The mixture that you stuff the shells with can vary greatly depending on which cheeses you prefer. If you do not like ricotta, this is my recommended ratio: 1 cup or so of Ricotta , 2.5 c Mozzarella, and 1 c Parmesan. The small amount of Ricotta will not flavor the dish, but will help combine everything. You can also use mostly Ricotta, and if you want a cheaper option, you can use cottage cheese. Yes, I said cottage cheese; it sounds horrible, but it's not bad, just add some Mozzarella.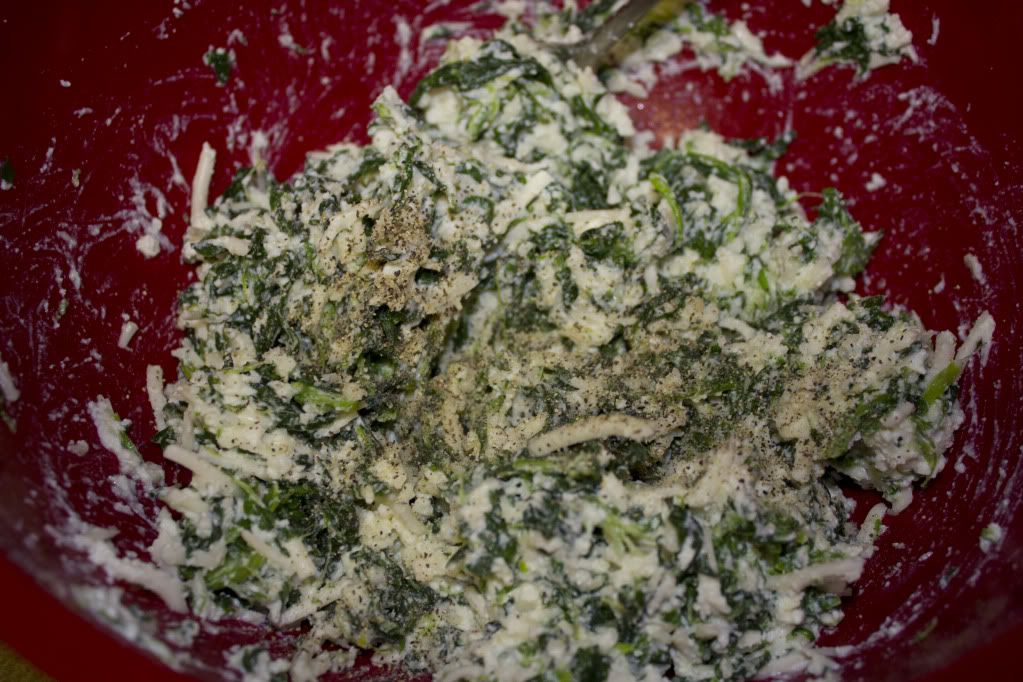 Open the package of frozen spinach and thaw. Add the spinach to the cheese mixture. Then add the onion, garlic, salt and pepper. Mix until combined.
While the shells are cooling slightly, grease a 9×13 pan. Hold a shell in your non-dominant hand and fill with a spoonful of the cheese and spinach mixture. You should be able to fit three rows of about 12-15 shells each. They don't need to be packed too tightly, but it should be a fairly smug fit. Once the shells are filled, pour the tomato sauce across the top of each row. Sprinkle more Mozzarella cheese over the top.
Cook the shells for 15-30 minutes at 350°F. Once the cheese on top has started to brown and the tomato sauce begins to bubble, they're finished. Let sit for 3-5 minutes before serving.
One of my friends informed me that he was traumatized by Ricotta-only stuffed shells when he was growing up, but he said "I'd order those in a restaurant if they all tasted like that!" This really is a surprisingly fun and really easy meal that serves a crowd!