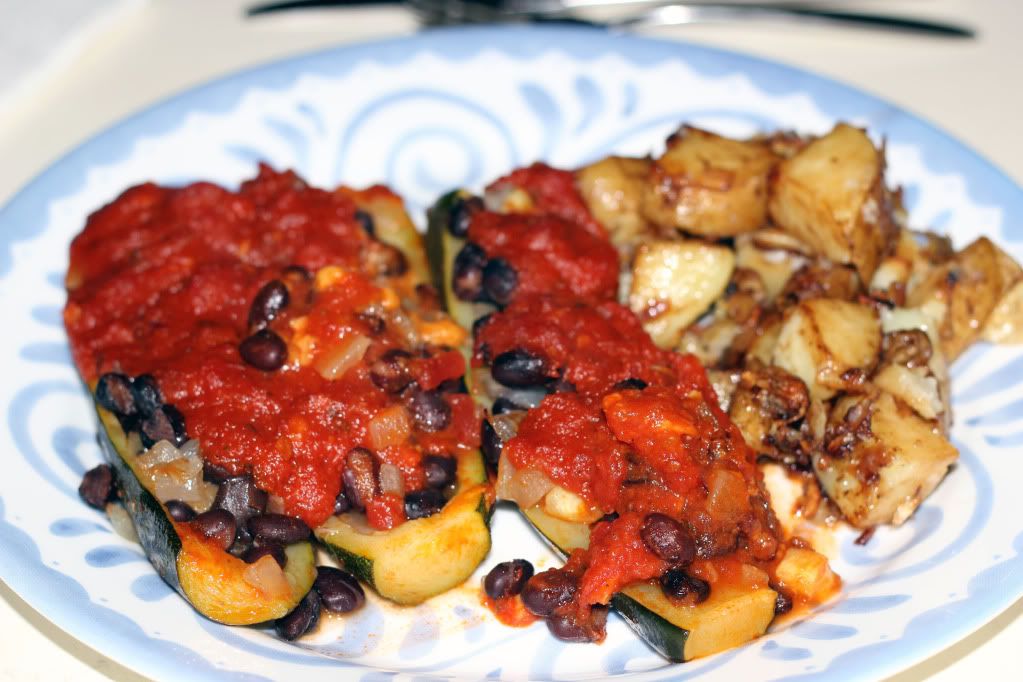 Happy Earth Day! I thought today would be a great day to share a great vegetarian recipe since meat is considered to be such a threat in terms of global warming. Everyone has their own opinions about what makes up a "healthy" or "balanced" diet, but I think people are finally beginning to understand that most people only need  about 1/4 the amount of meat the average American consumes per week, and for those of you that are trying to cut back or add some variety to your diet, this is a great recipe to start with since it's so hearty and flavorful.
If you've ever grown zucchini or squash in a backyard garden, you are all too aware that you'll reach a certain point in the summer where you begin running out of ideas of what to do with all of it. Unfortunately, it's still spring so that wonderful problem isn't quite upon us yet, but I thought that with the weather quickly warming, now is a good time to start prepping for the summer squash bonanza.
I might add, that I absolutely love zucchini; when forced to choose a favorite vegetable, zucchini is often my answer even though broccoli, peppers, and peas are pretty much tied with it for first. That aside however, I am always looking for delicious, hearty, non-dairy vegetarian dishes (that's a mouthful!) that are easy to prepare because if it isn't fairly easy to make, it won't get made very often. Zucchini boats are something I associate with my mother, and she always filled them with a delicious cheesy, onion-y filling that was divine. (This filling also happened to be the sauce  for my parent's baked macaroni and cheese; onion+butter+flour+milk+cheese+noddles = comfort food heaven.)  Both the macaroni and zucchini boats were certainly delicious dish, but I cannot eat them anymore due to my lactose issues. Furthermore, my boyfriend thought the macaroni sauce-filled zucchinis were rather boring texturally since it was all rather "mushy" as he put it. To fix both of these problems I came up with a new recipe that combined the best of both worlds: keep the zucchini boats and sauce, but come up with a new filling that had a different source of protein and flavor.
The recipe below makes about 4 main-course servings. To adjust, make about 1 whole zucchini per adult or 1/2 for children, and only increase the beans and onion slightly to accommodate more servings.
1 onion, diced
4 zucchini, washed
1 12 or 15 oz can black beans
2 Tbsp olive oil
1/2 c cheese (optional)
marinara sauce to cover (approximately 2 cups)
To prepare:
1.Preheat the oven to 450° F. NOTE: 350° F also works, but will extend the cooking time by about 10-15 minutes.
2. Fill a pot large enough to loosely and flatly fit all of the zucchini, about halfway with water and bring to a boil. Meanwhile, wash the zucchini.
2. Dice the onion. Add the onion and olive oil to the sauté pan. Sauté until the onion has softened.
3. Rinse the beans thoroughly in a colander and add to the onions. Drizzle with more olive oil if needed. Sauté until warm.
3. Add the zucchini to the boiling water, reduce to medium heat, and cook for 15-20 minutes. When the zucchini bruises when you try to remove it from the water, it's done. Remove the zucchini and place on a cutting board.
4. Cut both ends off and halve each zucchini. Then using a spoon, scoop out the seedy membrane. Be careful not to burn yourself because it needs to be done while they are still hot, and also be careful not to break the skin.
5. Dice up the seedy membrane you removed from the zucchini and add it to the beans and onion filling. That way nothing goes to waste and you get even more of that zucchini goodness!
5. Spray a small glass pan with PAM and lay the boats in so that they fit snuggly enough not to tip over, but not tightly.
6. Fill the boats with the beans and onion mixture. Then cover with cheese if desired.
7. Put in the preheated oven and cook for 10 minutes.
8. Pull out of the oven, add the marinara sauce so that is covers all of the boats, and place back in the oven for 10 minutes or until the sauce is bubbling around the sides.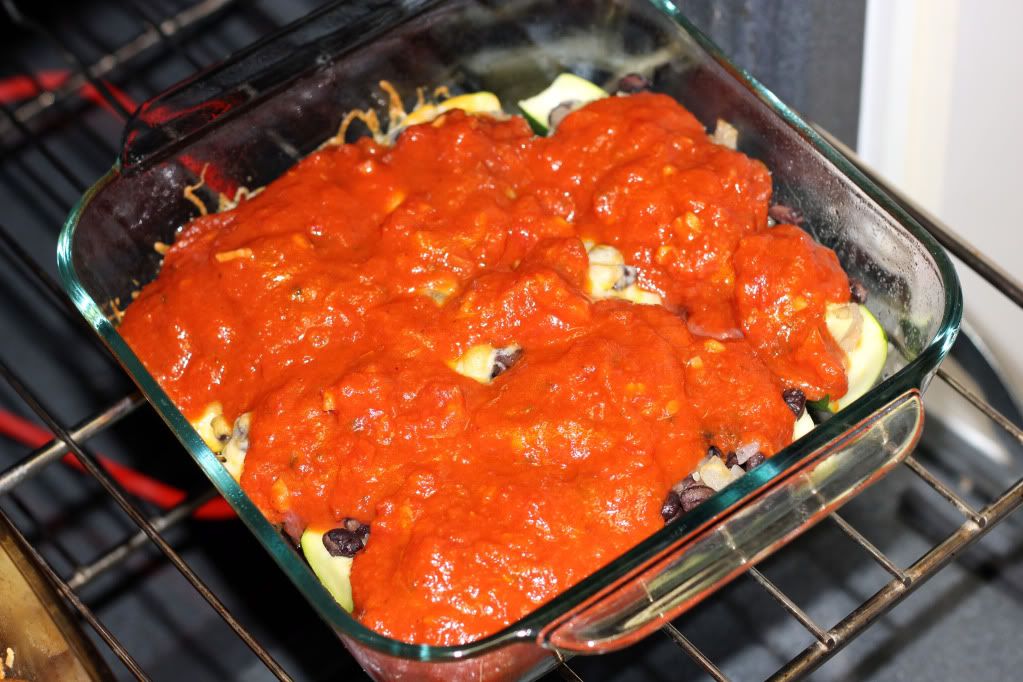 That's all there is to it! It's about 45 minutes start to finish, but 20 minutes of it is just waiting for it to bake. This dish is a really balanced meal in and of itself and would be a nice change for vegetarians and vegans who are all to often served soggy eggplant paremsan and greasy stuffed portobello mushrooms; however, it's also a great way to incorporate more veggies and non-meat proteins in to your diet. I served the zucchini boats with a baked potato dish, but it's hearty enough that not much else is needed. I know I'll be making this recipe again soon because it was a big hit! In the future I may try adding some minced garlic and freshly cracked pepper to the filling, but even without that it was full of flavor and really satisfying.
Also, the concept of filling a food with other foods, especially when you can call one a boat, is a great way to get kids to eat vegetable dishes…or at least, it worked for all the kids I know! Stuffed peppers are another good alternative, but I'll save that for another day.
I hope you enjoy!