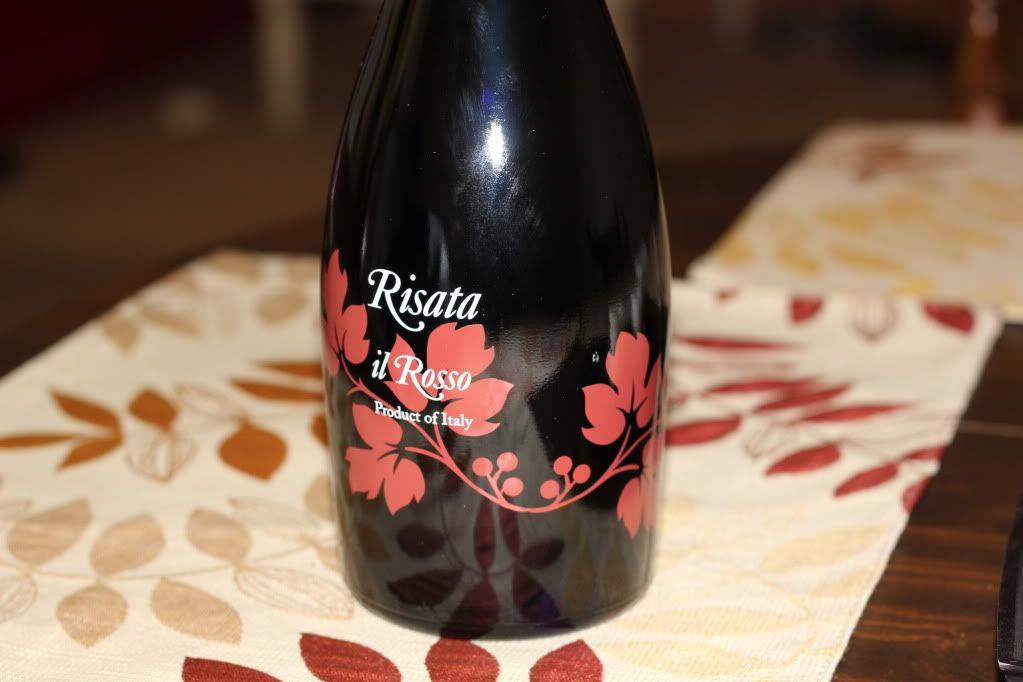 I have found that I'm beginning to like wine more and more over the years. I'm not a big drinker, but my boyfriend's parents came to visit so I wanted to pick up a bottle to have with dinner. Since I don't particularly like wine, I went with a sweet red, which I understand, is not very respectable in the world of winos. Regardless, I actually really loved the wine we got: Risata il Rosso. According to the bottle, 'risata' means laughter in Italian, which is always a good sign, and it tastes of cherries and strawberries. I picked up on a mixed berries sort of flavor, but the cherry didn't really stand out to me. This delicious, sparkling, sweet red wine, however, won me over and I actually had two glasses at dinner! I hardly ever finish a glass, so everyone was stunned to see me refill my glass.
I highly recommend this delicious gem of a wine that I picked up for a scant $14.00 at a Fresh Market. I served it with an Italian beans and rice dish (Riso e Fagioli) which turned out to pair really nicely. The food was hearty and earthy, so I liked the way the sweetness of the wine contrasted, and then I cut up a Honeycrisp apple to serve for desert (non-dairy deserts are often rather depressing, but fresh fruit is always a winner in my book) and it went really well! Even my boyfriend, who isn't usually in to sweets or fruit commented on how well the wine paired with the apple.
I will definitely be purchasing another bottle of this soon and keeping it on hand for a summer evening of entertaining as well as for an evening spent cuddled up with a blanket and a good book. I hope you can find a bottle in your area! It would be well worth your search. Cheers!